Copper Butt weld / Socket weld / Threaded Pipe Fittings
Our range of Copper Fittings and Cupro Fittings are available in Compression Tube Fittings, Elbow, Tee, Pipe Fittings, Adapter, Reducer, Plug, Pipe End Cap, Tube Cap, etc. The products we offer are developed under the supervision of experienced quality controllers in accordance with the norms and guidelines. Moreover, we can also provide custom-built copper pipe fittings as per the specifications provided by customers. We, Numax Steels are offer copper pipe fittings in both wrot copper and cast bronze.
These Copper Alloy Fittings are Used for central air conditioner controls system, warm ventilation, air-conditioner, refrigerator, water dispenser, building installation. This copper fittings is essential to both domestic & public construction projects as it is the main component of the structure.
Copper Fittings, Copper Butt weld Fittings, Copper Elbow, Tee, Copper Reducer, Coupling, Copper Tube Fittings, Copper Pipe Flanges, Copper Pipe Fittings Manufacturer in India.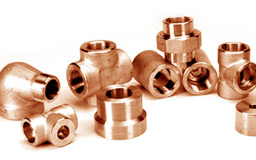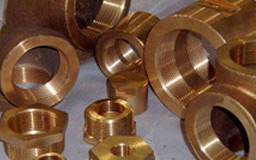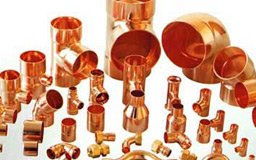 Copper Pipe Fittings Sizes & Materials Grades
| | |
| --- | --- |
| Grades | ASTM / ASME SB 61 UNS NO. C 92200, ASTM / ASME SB 62 UNS NO. C 83600, ASTM / ASME SB 151 UNS NO. 70600, 71500, C 70600 (cu-ni-90/10), C 71500 (cu-ni-70/30), ASTM / ASME SB 152 UNS NO. C 10100, C 10200, C 10300, C 10800, C 12000 & C 12200. |
| Size | ¼" to 4" |
| Fittings | 15 mm NB to 600 mm NB in schedule 5, 10, 20, 30, 40, 80, etc |
| Flanges | 15 mm NB to 600 mm NB in 150#, 300#, 600#, 900, 1200# |
| Material | Copper |
| Fittings Types | (butt weld, socketweld & threaded) 90 deg elbow, 90 deg long bend, 45 deg elbow, 45 deg long bend, 180 deg u bend, eccentric reducer, concentric reducer, cross, equal tee, unequal tee, union, nipple, swage nipple, full & half coupling, end cap, pipe cap, plug, bush, socket, bushing, reducer, hose collar etc. |
| Flanges Types | Blind (BLRF), Threaded, Socket weld (SWRF), Screwed (SERF), Slip-On (SORF), Weldneck Ring Joint (WNRTJ), Long Weld Neck, Ring Joint Flange, Spectacle Blind, Lapped Joint (LJFF), Weldneck (WNRF), Orifice, etc. |
| Type | Staplock Fittings, Swivel Nut, Adapters, Ferrule Fittings |
Industrial Applications
Heat exchangers
Evaporators
Chemicals Industries
Brewery tubes
Distilleries
Boilers
Gas Pipe
Hydraulic Pipe
Air conditioning
Condensers
Solar applications
Fertilizers Industries
Thermal power plant
Structure Pipe
Chemical Fertilizer Pipe
Refrigeration
Copper Socket weld Fittings, Copper Threaded Fittings, Copper Ferrule Fittings, Cu-Ni Buttweld Pipe Fittings, Copper Forged Fittings Supplier & Exporter in India.
Available Types of Copper Pipe Fittings & Copper Instrumentation Fittings
Copper Fittings
Copper Pipe Fittings
Copper Instrumentation Fittings
Copper Ferrule Fittings
Copper Pipe Flanges
Copper Flanges
Copper Adapters
Copper Nickel Tube Fittings
Copper Butt weld Fittings
Copper Tube Fittings
Copper Elbow
Copper Reducer
Copper Tees
Copper Union
Cu-Ni Pipe Fittings
Copper Tubing
Copper Threaded Fittings
Copper Socket weld Fittings
Copper Forged Fittings
Copper Coupling
Copper Tube Cap
Copper Tube Plug
Copper Flare Fittings
Copper Union Cross