Copper Nickel 70/30 Flanges Stockist
ASTM B152 Cu-Ni 70 / 30 Flanges, ANSI B16.5 Copper Nickel 70/30 Flanges, UNS C71500 Slip on Flanges, Cu-Ni 70 / 30 BLRF Flanges, Grade 70 / 30 Copper Nickel WNRF Flanges Manufacturer & Supplier in India
We at Numax Steels are one of the foremost Copper Nickel Cu-Ni 70/30 (C71500) Flanges stockists, manufacturer, and Exporter. These Cu-Ni 70/30 (C71500) Flanges are manufactured using high-grade copper alloy material and designed as per the international standards.
We are dedicated to providing a wide range of Cupronickel flanges which includes Slip On Flanges, Blind Flanges, Weld Neck Flanges, Socket Weld Flanges, Orifice Flanges, Spectacle Blind Flanges, Screwed / Threaded Flanges, Reducing Flanges, Ring Type Joint Flanges (RTJ), etc.
Copper Nickel C71500, as well-known as 70/30 Copper Nickel, provides good corrosion resistance, particularly in marine saltwater atmospheres. Cupronickel 70 / 30 Flanges are widely used for piping systems, marine hardware and also at times for the crankshafts, propellers, and hulls of best fishing boats, tugboats, and other working boats. Contact us today to request a free estimate!
ASME SB-152 70/30 Copper Nickel Blind Flanges, Copper Nickel 70 / 30 SORF Flanges, Cu-Ni 70 / 30 Weld Neck Flanges, Cu-Ni 70 / 30 RTJ Flanges, Cu-Ni 70 / 30 Plate Flanges, Cupro Nickel 70 / 30 BLRF Flanges, Stockholder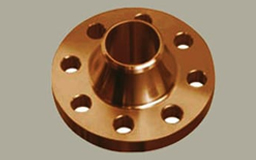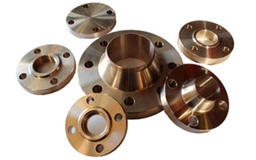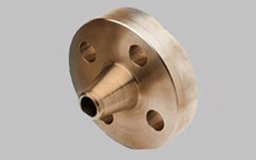 Cupro Nickel 70/30 Flanges Specification
| | |
| --- | --- |
| Specifications | ASTM / ASME SB 61 / 62 / 151 / 152 |
| Size | 1/2″ 36″ |
| Dimensions | ANSI/ASME B16.5, B 16.47 Series A & B, B16.48, BS4504, BS 10, EN-1092, DIN, etc |
| Standards | ANSI Flanges, ASME Flanges, BS Flanges, DIN Flanges, EN Flanges, etc |
| Class / Pressure | 150#, 300#, 600#, 900#, 1500#, 2500#, PN6, PN10, PN16, PN25, PN40, PN64 etc |
| Flange Face Type | Flat Face (FF), Raised Face (RF), Ring Type Joint (RTJ) |
Types of 70/30 Cupro Nickel Flanges
| | |
| --- | --- |
| Cupro Nickel 70/30 Slip on Flanges | 70/30 Cu-Ni Weld Neck Flanges |
| ASME SA61 Copper Nickel 70/30 Blind Flanges | Cu-Ni UNS C71500 Socket Weld Flanges |
| WERKSTOFF NR. 2.0882 Threaded Flanges | ASTM A152 Cu-Ni 70/30 Lap Joint Flanges |
| 70/30 Cu-Ni Orifice Flanges | Copper Nickel 70/30 Spectacle Blind Flanges |
| 70/30 Cupro Nickel Reducing Flanges | Cu-Ni 70/30 Ring/Spacer Flanges |
| Cupro Nickel 70/30 Forged Flanges | ASME B16.5 Cupro Nickel ANSI Flanges |
| 70/30 Cupro Nickel API Flanges | Cu-Ni 70/30 Industry Standard Flanges |
| UNS C71500 BS Flanges | 70/30 Copper Nickel DIN Flanges |
| ASME SA151 Cu-Ni 70/30 EN 1092-1 Flanges | WERKSTOFF NR. 2.0882 JIS Flanges |
| Cu-Ni 70/30 Ring Type Joint Flange | ASTM A62 Cupro Nickel 70/30 WNRF Flanges |
| Cupro Nickel 70/30 BLRF Flanges | BS4504 Cu-Ni 70/30 RTJ Flanges |
Chemical Composition of Cu-Ni 70/30 Flanges
| | | | | | | |
| --- | --- | --- | --- | --- | --- | --- |
| Grade | Cu | Mn | Pb | Ni | Fe | Zn |
| Cupro Nickel 70/30 | 65 min | 1.0 max | 0.05 max | 29-33 max | 0.4-1.0 max | 1 max |
ASME SB366 Cupro Nickel 70/30 Flanges Mechanical Properties
| | | | | |
| --- | --- | --- | --- | --- |
| Density | Melting Point | Tensile Strength | Yield Strength (0.2%Offset) | Elongation |
| 0.323 lb/in3 at 68 F | 2260 F | 50000 psi | 20000 psi | 30 % |
Equivalent Grades for 70/30 Cu-Ni Flanges
| | | |
| --- | --- | --- |
| STANDARD | WERKSTOFF NR. | UNS |
| Cupro Nickel 70/30 | 2.0882 | C71500 |
Available Grades of ASTM B366 Cupro Nickel Flanges
| | |
| --- | --- |
| Cupro Nickel 90/10 Flanges | Cupro Nickel 70/30 Flanges |
| Cu-Ni 90/10 Flanges | Cu-Ni 70/30 Flanges |
70/30 Cupro Nickel Flanges - Application Industries
Automobile Industries
Boilers
Chemical Fertilizers
Desalination
Decoratives
Dairies and Food
Energy Industries
Food Industries
Fertilizers and Plant Equipment
Fabrication
Heat Exchangers
Instrumentation
Metallurgical Industries
Oil and Gas Industries
Pharmaceuticals
Power Plants
Railings In Railway Stations
Sugar Industries
Space Application
Pulp and Paper Mills
Railway Coachings
Ships